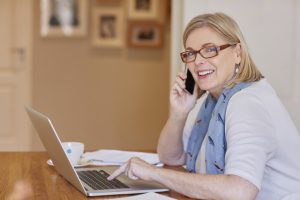 Lifeline is a federal program that lowers the monthly cost of phone and internet and is available only to eligible consumers. The purpose of the program is to ensure that all Americans have the opportunities and security that phone and internet service brings, including being able to connect to jobs, family and emergency services.
Am I Eligible? There are two ways to qualify for the Lifeline Program (1) If your household's income is at or below the federal poverty guidelines (2) If someone in your household participates in a federal program, you may be eligible for a Lifeline Program benefit.
One Benefit per Household You can only use Lifeline for either phone or internet, but not both. Only one Lifeline Program benefit (either wireless or landline telephone, home internet or a cell phone data plan) is allowed per household. The definition of a "household" is anyone living at an address (including children, relatives, people not related to you, etc.) who share income(s) and household expenses.
How to Apply To learn more about eligibility and apply for the benefit contact a Pottawatomie Telephone Company customer service representative at (800) 522-3221. You can also go to lifelinesupport.org for more information on eligible programs and acceptable forms of documentation.